A ride for the planet
Sustainability is a shared
journey
The future is electric, if we make it so. And it can be green if we all work together towards the same goal.
That's why we are on a mission to promote a smarter world with our fleet vehicles, our ghost kitchen model, and our daily attitude.
Sustainability is a shared
mission
To us, sustainability is a lifestyle, and we want to make it real every day.
That's why, after setting our own sustainability goals, we have developed a strategy to reach our net zero-emissions target and propose a better vision of our future. We share this mission with our employees, our users, and all the cities and organizations we work with.
Sustainability is a shared
belief
The bond between human activities and climate change is undeniable, and we believe that strong and decisive actions are needed from companies and businesses.
For this reason, our commitment is not just focused on providing people with alternative transportation solutions, but also on reducing our own operations' carbon footprint.
Sustainability is a shared
strategy
01
Calculate
To calculate all our emissions, we chose GHG Protocol's Scope 3, a standardized methodology intended to assess our entire value chain emissions impact and identify where to focus reduction activities.
02
Reduce
After precisely evaluating our company's emissions, we have developed a strategy to effectively reduce our carbon footprint.
03
Offset
Until we are able to completely reduce our emissions to zero, we will find alternative ways to meet our climate neutrality balance. We will try to compensate for our remaining emissions by offsetting them with strategic partners.
Mobility
Longer vehicle lifespan
Together with our partners, we continue to improve our vehicles' endurance, making them more efficient.
Zero emission operations
We fuel most of our fleet's batteries with 100% clean energy by Enel Energia. Our aim is to extend it to the full fleet.
Circularity
We've partnered with Li-Cycle, leader in the recycling of lithium-ion batteries, to sustainably recover the end-of-life batteries from our vehicles.
Kitchen
Electric kitchens & km 0 suppliers
Electric hobs and cold stores, air filtering systems with ionizing UV lamps; our raw materials come from sustainable supply chains only, like that of Planet Farms.
Electric deliveries
Our Butlers only ride our dedicated Helbiz Kitchen moped, a dedicated and branded 100% electric model provided by Vmoto Soco.
Recyclable packaging
Thanks to Acquainbrick and other strategic partners, we are able to offer our customers a 100% sustainable dish.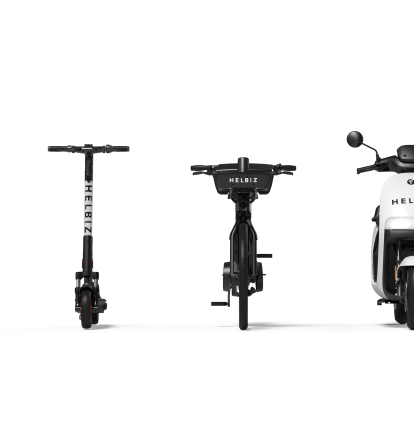 We continue to think of different ways to make our planet a more liveable place, together. Would you like to share our journey?
Find out more
"We want to play an active role in transforming the harmful realities that we as a society have grown to accept as the norm."
Salvatore Palella
Founder & CEO